Register for the DTRA 2023 Annual Meeting
Reserve Your Spot: Be a Part of the Community Driving the Adoption of Decentralized Trials!

Join the DTRA member community at our annual event, where leading visionaries in decentralized research and clinical trials unite to exchange ideas, forge lasting connections, and advance our shared mission of making patient-focused research accessible to all.

Within the pristine surroundings of the Encore Boston Harbor, enjoy a curated agenda featuring:
Panel Conversations from Leaders on the Frontlines of Decentralized Research

Fireside Chats and Panel Conversations with Regulatory & Government Agency Authorities

Collaborative Conversations about the Adoption of Decentralized Research

In-Person DTRA Co Lab Gatherings

Live Leadership Council Meeting (for Council members)

Exhibits and Receptions

Company Presentations

Multiple Opportunities to Meet Potential Partners
Regular registration includes exclusive access to one-to-one meeting features within the event platform to facilitate ongoing collaboration and innovation. The benefits of this feature include:
One-to-one meetings in 15-minute increments with both in-person and hybrid participants.

Advanced access to secure your meetings before the event.

Directory of participant and Organizational Member profiles.

Simplified meeting invitations and acceptance process.

Smart features to make it easy to meet virtually with hybrid participants.

Join the DTRA Annual Meeting from the convenience of your home or office with the same registration and enjoy features that connect you with live streaming, hybrid networking, and access to the conference content.
While some features of the meeting will remain available only to face-to-face participants (including receptions, exhibition floor hours, poster sessions, and in-person networking), we are pleased to be able to extend a great experience featuring exceptional content to all participants, regardless of their location.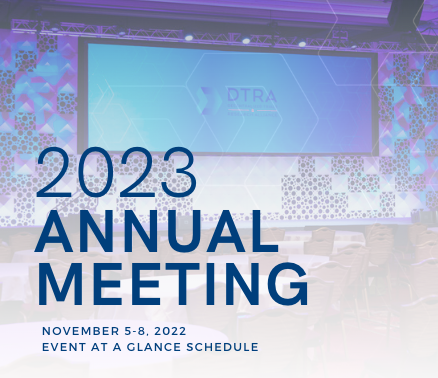 Event Schedule
Registration is open to employees of current DTRA organizational members as well as individual members.

Breakfast and lunch are included on Monday and Tuesday. Breakfast will be served at the Leadership Council Meeting on Wednesday.

Leadership Council Representatives may register for complimentary access to attend the in-person Leadership Council Meeting on Wednesday, November 8, 2023. This ticket type permits admission to the Leadership Council meeting only. It does not include admission to any other events, sessions, or receptions during DTRA's Annual Meeting.

Terms & Conditions
2023 DTRA Annual Meeting registration fees are non-refundable.

If the registrant is unable to participate, the registration may be transferred to another employee of the Member Organization, or participation can be redeemed in 2024.