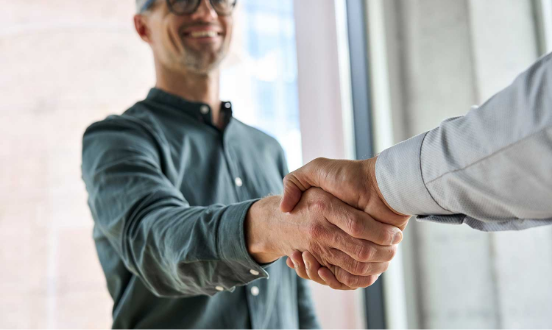 Become a DTRA Organizational Member
Connect with the foremost pioneers in DCT with a unified voice and vision to make research accessible for everyone. Through unprecedented collaboration across boundaries, we aim to create a path to expand access to patient-focused decentralized trials.

Representation on the DTRA Leadership Council

Exclusive collaboration and volunteer opportunities

Access to join available seats on DTRA Initiative Teams and CoLab opportunities

Ability to join DTRA Circles: Functional Collaboration Groups

Curated news and member updates

Complimentary listings on the DTRA job board

Access to the Everest Group's curated clinical development technology research

Two registration passes to the DTRA Annual Meeting

Sponsorship opportunities at the annual meeting

Professional networking with industry leaders

Eligibility to be a featured guest on the TGIF-DCT Clubhouse and Decentralized podcast program

Access to the Membership Community featuring:

Organizational member directory and marketplace

Organizational employee member profiles

Networking, groups, and discussion forums

Life Sciences and Research Companies
Technology and Service Providers
Patient Advocacy Organizations
Academic research centers

Motivation for Joining DTRA
DTRA strives to ensure that all Organizational Members align with the shared mission and vision and are prepared to fully participate in collaborative action to define and drive the future of patient-centered decentralized clinical research.

During the application process, organizations are invited to share why they wish to join the Alliance with a summary of their envisioned contributions and participation.

Membership dues are $30,000 per calendar year, with the effective membership period running from January 1 through December 31.

We invite you to explore our Mission and Benefits Proposition for additional information about becoming an organizational member.
Apply For
Organizational
Membership

Organizational
Membership
Application
Thank you for your interest in becoming an Organizational Member of DTRA. Please complete this form to apply. DTRA reviews each application to ensure that members are aligned with our mission and prepared to actively participate in our collaborative Alliance.

Please allow 3–5 business days for review and determination.

Membership is effective upon receipt of payment of invoice. The membership year runs from January to December with an annual membership fee of $30,000. Invoices are not prorated for Membership Dues. Membership Dues are non-refundable.

Organizational
Information